The Adventurers of Lost Recipes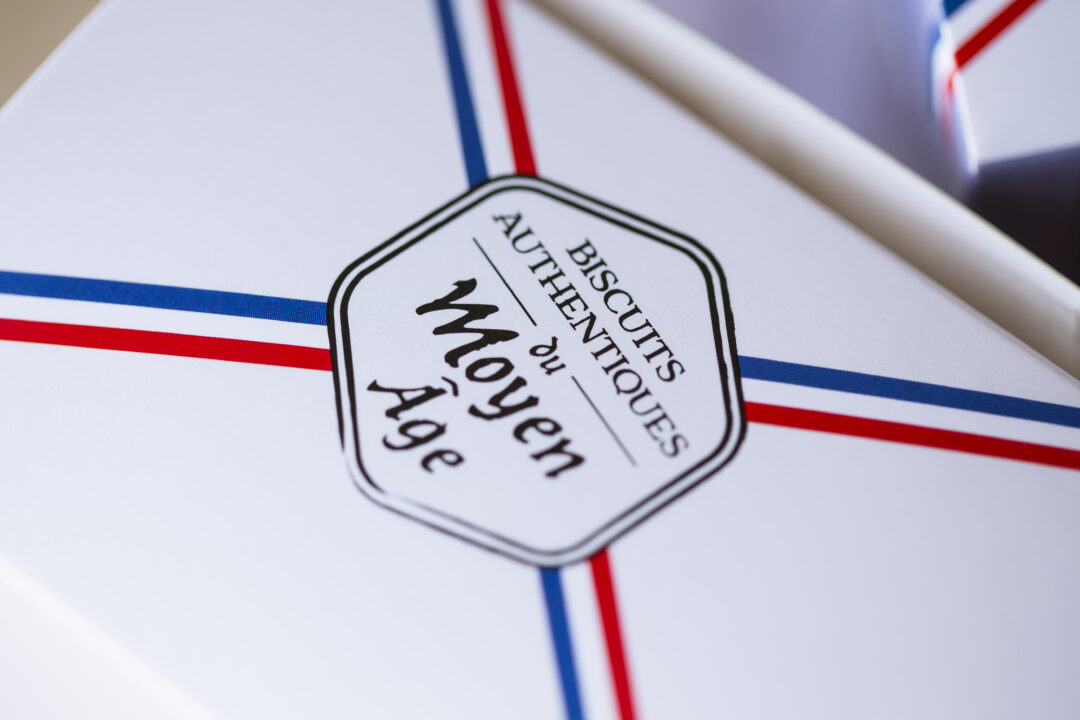 How It All Began
Elisa and Gwenaëlle met during their time in university as they were both pursuing their Master Degrees in History, majoring in Cultural Heritage. As intrigued historians and already passionate about pastry, they had plenty of fun trying out recipes unearthed from old recipe books which are centuries old. While quite some of these ancient recipes are recreated deliciously, they do recall a tart with candied lemon and pistachio which was absolutely inedible!
Upon graduation, Elisa and Gwenaëlle found work in different cultural establishments for a while. However, they decided combine their two passions: History and Pastry, and to make it their profession.
Following several months of pastry courses, business training and successful crowdfunding, Les Mirliflores was launched in 2017. Elisa and Gwenaëlle found an old farm near Toulouse, in the South-West of France and started their artisanal biscuit factory.
Behind The Name
A "Mirliflore" is a young man from the 18th century, who wishes for a bygone era of before the French Revolution (1789) when the nobility still had all their prestige and privileges. Furthermore, "Mirifique" in Old French, means "pleasant or wonderful".
Hence, Les Mirliflores is a reflection of Elisa and Gwenaëlle ethos to combine the historical origins and wonderful creation of their confectionery.
---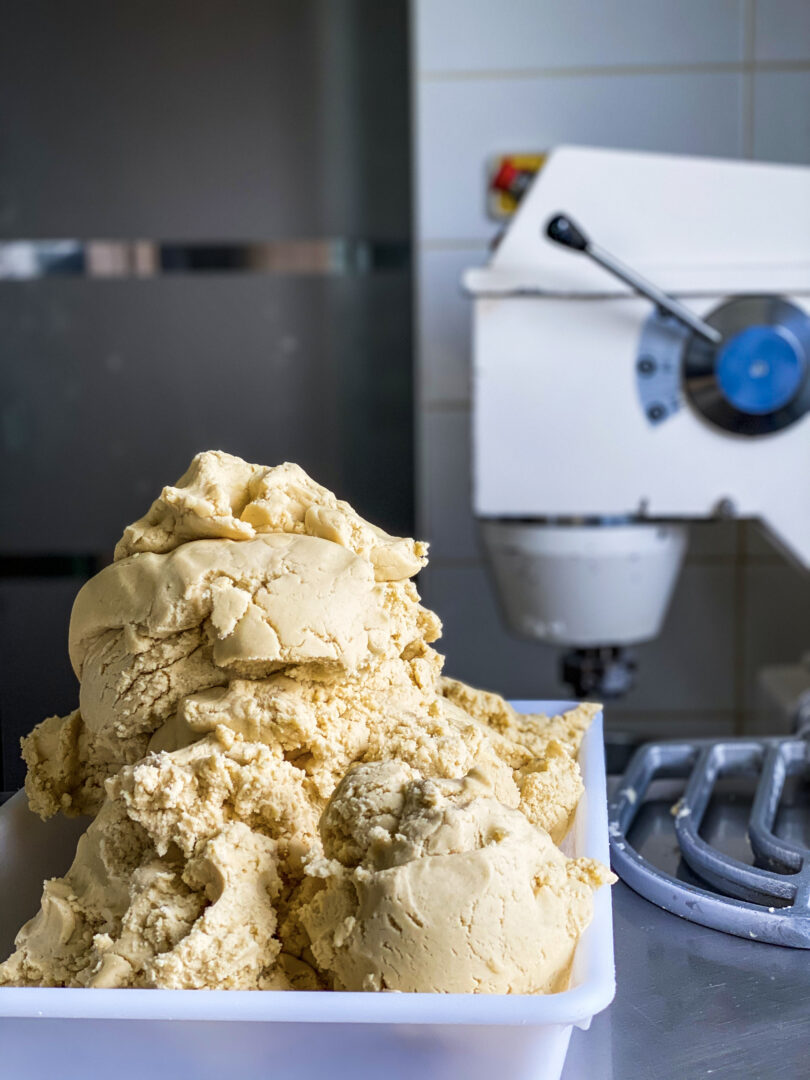 A Journey From Books to Biscuits
Elisa and Gwenaëlle delved deep into various historical, culinary, medicinal and iconographic documents for old recipes and after several months of intensive research work, they began recreating recipes with sometimes, surprising results.
Inspired by historical recipes, from the Middle Ages through to the Renaissance, from the 18th century to the First World War, Elisa and Gwenaëlle chose to focus their range on biscuits. So, why biscuits only? Well, because biscuits were one of the first pastries in history: As they were dry, they keep very well for many months without requiring the addition of preservatives.
Handcrafted in their artisanal factory, they favour local raw materials to guarantee quality, authentic and tasty biscuits. The taste, provenance and method of growing the ingredients are values that are particularly close to their hearts. They select quality local raw ingredients, like the wheat flour that comes from the Tarn, hazelnuts from the Lot-et-Garonne, spelt flour from close to Toulouse and so on. Ingredients that cannot be produced in France are chosen with the greatest care.
Les Mirliflores' biscuits have a wide range of different flavours and textures, allowing everyone to find their own favourites! Their biscuits contain no chemical preservatives, no colouring agents and no palm oil. They have several naturally gluten-free recipes as well.
All their biscuits are shaped by hand which gives them their "homemade" appearance, a guarantee of quality that only an artisanal biscuit factory can offer.
Bringing French History Back to Homes
Observing that people are generally becoming more interested in history (through the development of programmes, books and events of a historical nature) and that there is a real desire to eat better by consuming quality, local and authentic products, they came up with the idea of adding a small booklet inside of their biscuit boxes to tell the stories of these historical biscuits and their ingredients. A truly unique way to inform and engage whilst their consumers delight in the consumption of their incredible biscuits!
With both being particularly fond of pretty packaging, Elisa and Gwenaëlle endeavoured to develop packagings for their biscuits which are not just functional but also attractive, elegant and original. An illustrator from the south of France works closely with them to create the characters, featured on their packaging, in the style of old engravings. These are so beautiful that they make excellent gifts and the packagings are even kept (long after their biscuits have been happily consumed) as souvenirs and decorations in homes!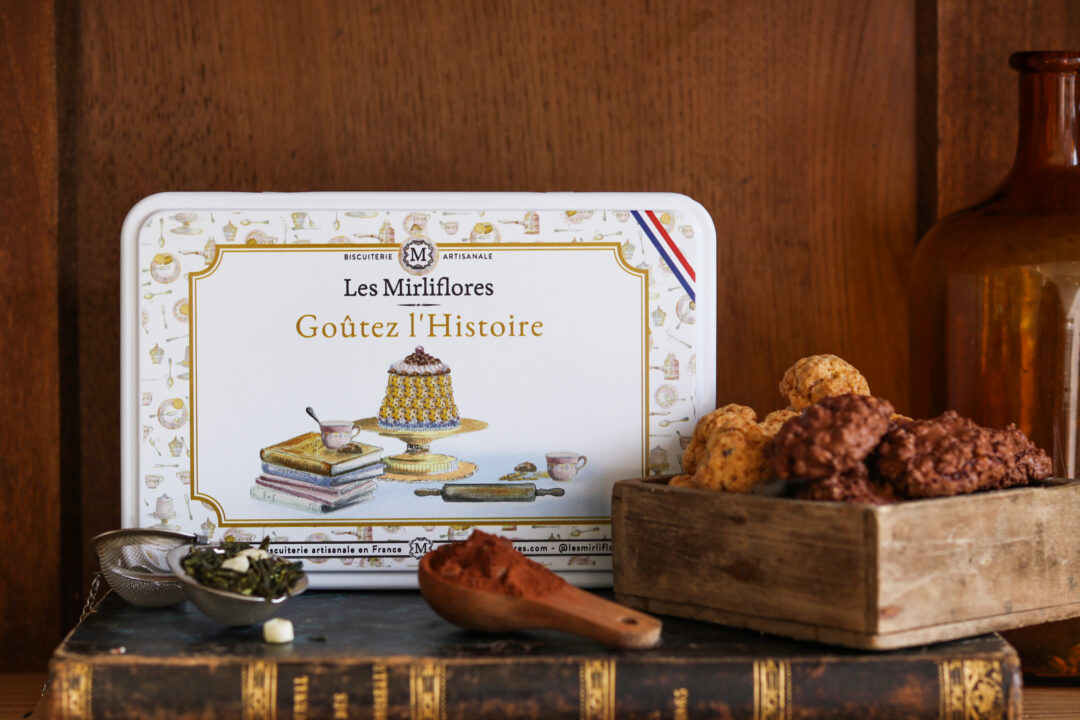 Since 2017, Les Mirliflores' product range has expanded. They offer several historical beverages (teas, herbal teas and hot chocolate mixes), as well as new biscuit recipes. They have also created a "Discovery Box" where it is possible to "discover" two biscuit recipes, one green tea and one hot chocolate mix, for a little bit of everything.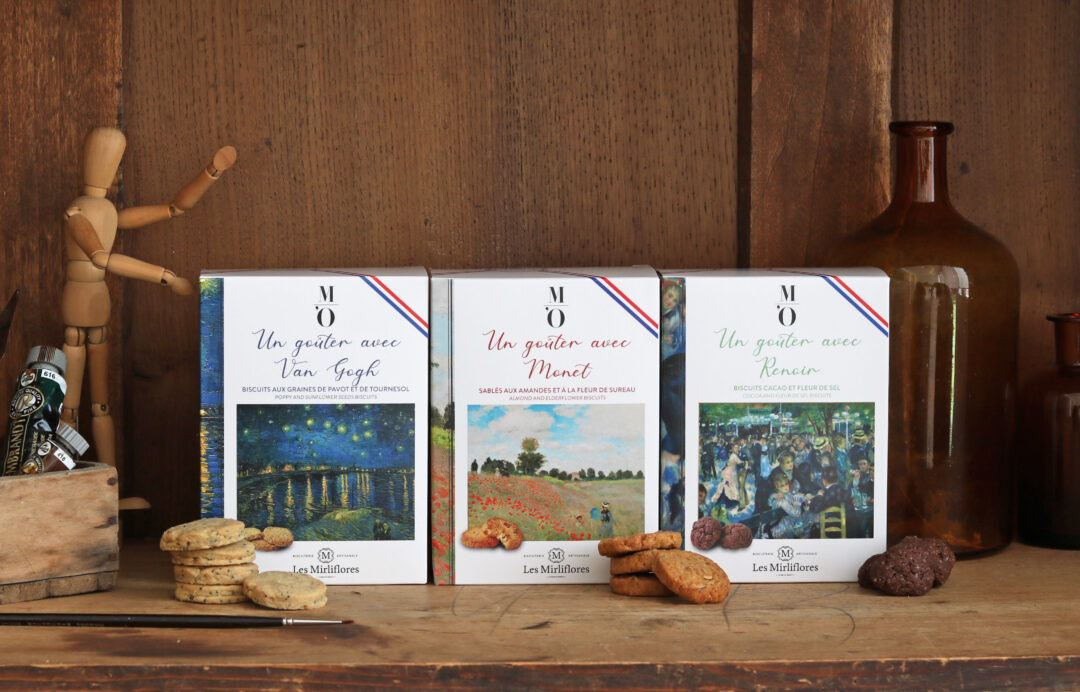 Les Mirliflores is sold in museum shops, castles and tourist offices, as well as in delicatessens, speciality shops and gourmet sections of department stores. They have worked with the Musée du Louvre, the Musée d'Orsay, the Musée de Cluny, the Domaine de Chantilly, the Château des Milandes (which once belonged to Joséphine Baker) and many more cultural establishments.
Les Mirliflores happily collaborates with various cultural establishments and brands. They create exclusive recipes with them, historical or not (to celebrate the anniversary of an event, to talk about the history of a company, to highlight a territory or a monument, etc.). This year, they collaborated with the Musée d'Orsay by creating a range of three biscuits inspired by three great Impressionist painters: Claude Monet, Auguste Renoir and Vincent Van Gogh, sold in the museum shop.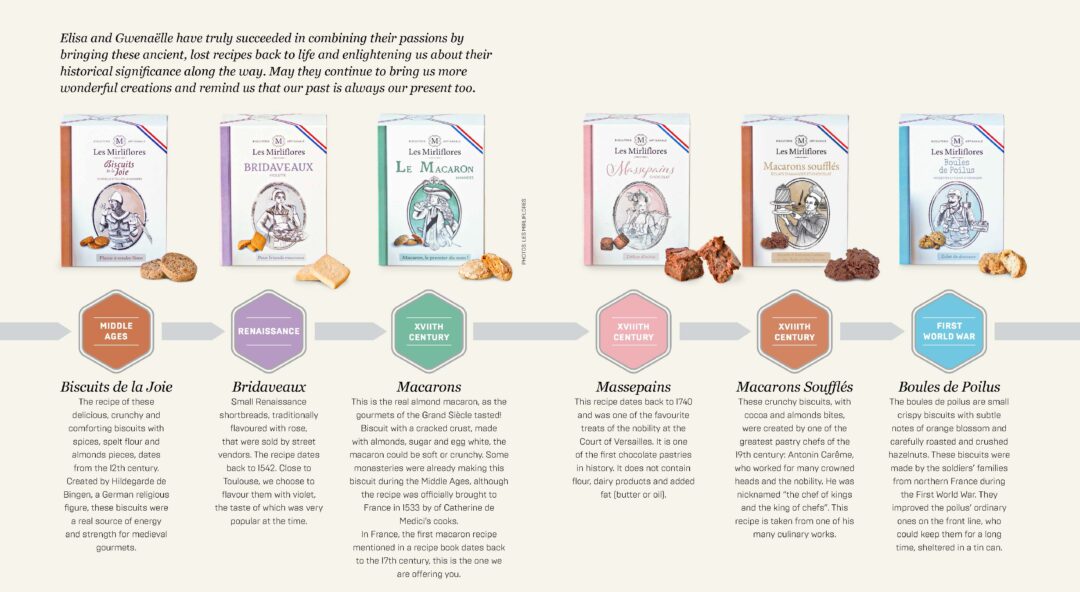 ---